Goodness number 19 already! How time flies when you are having fun!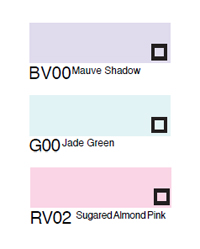 Aren't they totally scrummy! Now a few weeks back when these colours were released to the Design Team, I checked and realised I hadn't got any of them! I was going to treat myself but with all the pressure of my NVQ and life, I just didn't get around to it! How sad! So I did have to improvise a bit with alternative colours!

Here is my card using "Forget me not" image from Pixie Chicks #1 and "Believe" sentiment from Pixie Chicks #2.

Instead of BV00 Mauve Shadow I used BV02 Prune and BV04 Blue berry.
Instead of G00 Jade Green I used G21 Lime green and BG93 Green Gray.
Instead of RV02 Sugared Almond I used R20Blush and RV42 Salmon Pink.
I used Y21, Y17 and YR23 for hair and BG10 for the wings!

Now grab thos Copics, pop over for some inspiration from the rest of the Copic Colour Challenge Deesign team and get colouring to be in with a chance of this weeks fabby candy!